Why Altaro VM Backup?
Running our own virtualized environments, we realized that backing up and restoring VMs, Hyper-V clusters and VMware VMs inside vCenter was a needlessly complicated process without the use of a 3rd party tool. Existing products were overpriced, still complicated to configure and use and took ages to complete a job. We wanted to simplify while building in powerful and flexible features and the result is Altaro VM Backup.
Up and running quickly, without the need for complex configurations!
With Altaro VM Backup, you can install and run your first virtual machine (VM) backup in less than 15 minutes. Get up and running quickly, without the need for complex configurations or software dependencies.
Altaro VM Backup is designed to give you the power you need, without the hassle and steep learning curve.
Easy to use, intuitive UI – making it easy to implement a rock solid backup strategy
Managing and configuring backup/restore jobs across multiple hosts has never been simpler
Full control & scalability – Monitor and manage all your Hyper-V and VMware hosts from a single console
Altaro Gets you Up and Running in less than 15 minutes!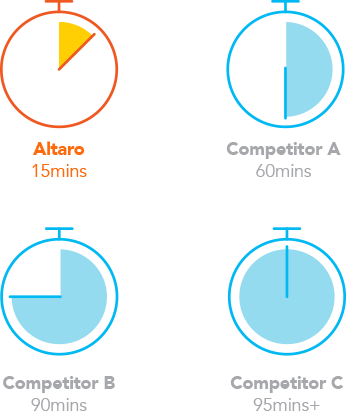 Backup and replication you can bank on
Protecting your data should be easy, yet flexible and powerful enough to meet your disaster recovery needs. Altaro VM Backup features include: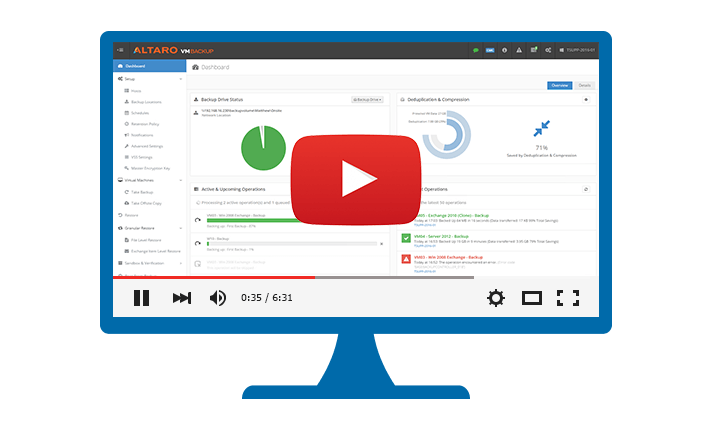 Fast, reliable restores and recovery
Great backup is meaningless without the speed, flexibility and reliability to get back up and running when your organization's data is on the line. Altaro VM Backup offers you a host of tools to recover what you need, FAST.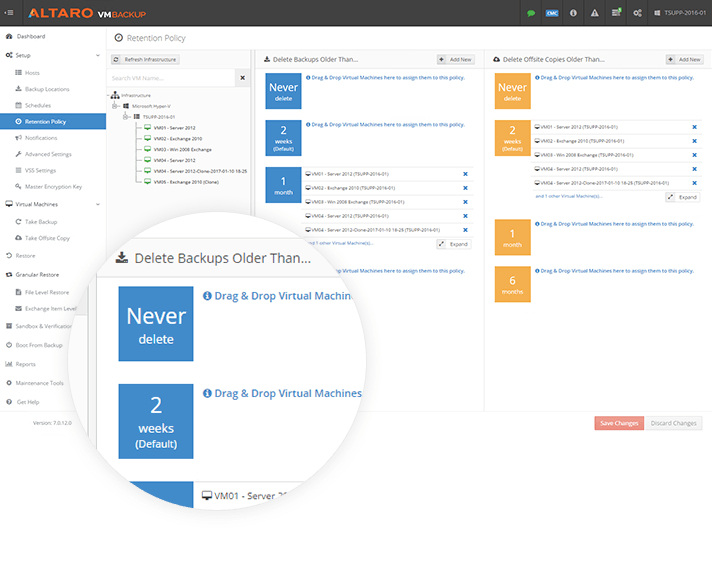 Instantly boot any VM version from the backup location without affecting backup integrity
Ensure you always have healthy backups with Altaro's unique Backup Health Monitor, which proactively monitors the health of your backup storage, and should any corruption be detected, the block(s) in question will be repaired automatically as part of the next backup job
Browse through your Exchange VM backup's file system and restore individual emails
Granular Restore Options for full VM or individual files or emails
Retrieve individual files directly from your VM backups with a few clicks
Fast OnePass Restores View video
Restore an individual or a group of VMs to a different host
Restore from multiple points in time rather than just 'the most recent backup'
Restore Clones
Get up and running with Altaro VM Backup today
Altaro VM Backup supports both VMware as well as Microsoft Hyper-V, all from a single console. Easy.

Exchange and SQL support
Back up Exchange Server and SQL VMs or other applications compatible with Microsoft's VSS Writer.

Linux VM support
Back up file consistent Linux VMs without shutting down the machine.

Flexible Backup Destinations
Save Backups to a local drive or UNC share. Save Offsite copies to local drive, UNC share, to single or multiple locations (swapped) or offsite (WAN) Altaro Backup Server.

Supported Backup Media
USB External Drives and Flash Drives eSata External Drives
File Server Network Shares (via UNC)
NAS devices (via UNC)
Internal Hard Drives (recommended only for evaluation purposes)
RDX Cartridges
Offsite Altaro Backup Server via Internet / WAN
FREE TRIAL